After spending a lot of time lately working on the iPhone 11 and iPhone 11 Pro Max, I've been looking for new features that actually do something different.
As a great new platform from Apple, iOS 13 has some nice little improvements I've enjoyed: rounded corners for the volume bar on the screen, better control over which apps use your location, and the ability to pair a game controller with your phone.
(OK, full disclosure, I did not do that last year, but that's because I was busy with reviews, and I know that a controller and an Apple Arcade subscription will only increase my delay.)
However, there is a small feature in the iOS 13 mix that makes me very happy – and hidden in the camera app. You can now record in 16: 9 ratio rather than the 4: 3 option that Apple has been holding since the first day of iPhone.
No, honestly … it's important … right?
That's pretty important in my book – the 4: 3 picture is not the best to share online, but more importantly, a 16: 9 picture fills most of the screen when it's on a phone is displayed result.
16: 9 is synonymous in the settings not alone – here also the square mode option for taking pictures was added, so you can suddenly have the desired image with a quick swipe in the app.
(I feel like I may be a bit exaggerated to call a different capture ratio a "hidden" feature, but a setting that requires finger-pointing and typing is somewhat difficult for some users to find, especially when it's a hidden feature.) not immediately obvious that there is a whole new menu by swiping your number across the screen).
Go to the settings and select "Keep camera settings" in the options, otherwise the normal 4: 3 option will be used by default.
I realize that this is just a part of the picture, and it's likely that Apple has kept the larger image size to get as much detail as possible, and the sensor is able to capture that ratio – that is is a reason to keep the 4: 3 shape of the picture.
When you copy the file to your computer, the original 4: 3 size is preserved, so when you take a wide-screen photo, the iPhone does not change the structure of the file. This simply simplifies sharing a picture style. This is more attractive when viewed on a smartphone.
Why wait?
It's ridiculous that it took so long to get such a small feature on the iPhone – every other phone under the sun has had such an option for years, and there are plenty of forum threads for the best apps for 16: 9 Images ask on Apple's handset.
There are a number of other features that Apple takes far too long to bring to its platform: long presses on the Wi-Fi hotkey in the Control Center bring up a list of available networks.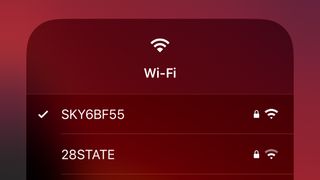 This has been a staple for Android for years. So why now for Apple? It has always been a useful feature and the ability has always been there. Why did the brand wait so long?
This is another case of drip features. I know that Apple wants to get the right experience for the user before starting a feature, but a simple cropping feature like this one is very handy and I can only feel that Apple has added it when it wanted to.
I fully understand that praising a cropping feature in the camera is a bit of a niche recognition for a smaller feature, but if you're constantly trying to take a picture in a wider format and either download an app or open it need to clip the computer, it's awesome to frame it in real time.
Or maybe it's just boring and I've started a bunch of incredibly small phone features that do not interest anyone. Next comes the slightly revised menu font of the Samsung Galaxy Note 10 Plus …
iPhone through the ages: How much has it changed?
This post contains affiliate links, to find out more information, please read our
disclaimer
.
The price written on this page is true as the time it is written. It may change at any moment.