All eyes will be on Dubai next week as the city demonstrates and showcases a wide range of 5G mobile technology, artificial intelligence and future mobility applications that have never before taken place on a global scale.
The 39th edition of Gitex Technology Week will open its doors on Sunday at the Dubai World Trade Center (DWTC). Well-known names worldwide include China Mobile, du, Etisalat, Huawei, Ericsson, Nokia and STC, and the networked future that will transform companies in the Middle East.
The United Arab Emirates is the first Arab country and the fourth country in the world to offer 5G services.
According to Ookla Speedtest, the United Arab Emirates rank fourth in the world after the US, Saudi Arabia and South Korea at 5G.
DWTC hosts a "5G Countdown" conference to focus on the transition to and the life-changing potential, including names like Osman Sultan, CEO of du; Fadi Pharaon, Senior Vice President and Market Area Manager, Middle East and Africa, Ericsson, who will meet the operators' requirements; and dr. Mohamed Madkour, Huawei's vice president of global wireless marketing and solutions, discuss how the future of manufacturing can be shaped by 5G, IoT and AI.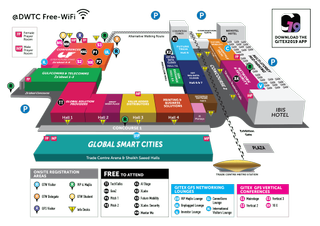 Driving the digital future
In addition to presenting the emerging technologies, more than 4,800 exhibitors from over 140 countries will receive 290 hours of content over an area of ​​1.4 million square feet over five days. More than 750 international startups and corporate accelerators and more than 1,500 exhibitors will be represented at the Gitex Future Stars by investors and corporate buyers.
Dr. Ahmed Bin Ali, Etisalat's Senior Vice President of Communications, said the telecom operator is always interested in bringing the latest technology and solutions to the event.
"We want to drive the digital future and offer solutions for different industries. For the first time, we are bringing many 5G solutions such as transportation, healthcare, aviation, real estate and retail to the event, "he said.
According to the Ericsson Mobility Report for the Middle East and Africa, 30 million 5G mobile phone subscribers are expected in the region by 2024.
"Our focus at the event will be on 5G and AI. We show applications and solutions that are possible with 5G. We invested more than $ 1.4 billion in 5G product development worldwide in 2017 and 2018. We will show what solutions and opportunities companies have from an AI perspective, "said Hani Sobih ELKukhun, vice president of strategy at Huawei Middle East.
According to Wojciech Bajda, Vice President for the Middle East and Africa and Head of the Gulf States at Ericsson, 5G promises many economic and social values.
newcomers
Companies to debut this year include China Mobile, Ericsson, Honeywell, Nokia, Schneider Electric, and Siemens, who will showcase developments around the world's most transformative and emerging technologies.
Franco Atassi, Head of Smart Infrastructure at Siemens Middle East, said the company will show how cities and industries can benefit from digital transformation.
"We will introduce MindSphere, the platform for open and cloud-based IoT operating systems for the fourth industrial revolution," he said.
At Expo 2020, MindSphere will guard the entire show and connect all devices on one platform. The entire commercial platform will be taken over by Siemens.
"We can abstract big data and turn it into small and intelligent data. That way people can visualize, analyze and make smarter decisions, "he said.
Government agencies are strongly represented
In addition to companies, government agencies are also strongly represented at the event.
The Telecommunications Regulatory Authority (TRA) of the United Arab Emirates is participating as part of the Government of the United Arab Emirates, which has 18 government offices. They outline their key achievements in the field of modern technologies and use them to facilitate government service delivery and customer satisfaction, and promote the principle of government and excellent technological services.
Hamad Ob Al Mansoori, Director-General of TRA, said TRA strives to activate all communication channels with its strategic partners and the public, to exchange ideas and views, and to develop the services provided by TRA in accordance with the aspirations of the UAE society all his segments.
"Our participation will be a vision of the future, foreseeing the technologies that will affect our lives and the lives of future generations. This is in line with TRA's role in monitoring the digital transformation at the federal level and its vision of achieving UAE's global leadership in the ICT sector, "he said.
The Abu Dhabi government is employing 32 key government and academic institutions to drive the digital transformation in Abu Dhabi, while Sharjah's eGovernment Department is deploying 33 departments to support the digital transformation and bring processes and systems across the Emirate across the enterprise to develop.
More than 100 Saudi organizations, including government agencies, private companies and startups, are also participating.
Startups fight for the top spot
Gitex Future Stars give startups the opportunity to play their ideas against each other in a variety of competitions. The Gitex Future Stars Supernova Challenge takes place in 11 categories, including the NXG category, and honors the latest innovation from a Gen Z startup.
The Supernova Champion will take home $ 100,000, with each subcategory receiving a prize of $ 10,000. In cooperation with Accenture and the Ministry of Health of Abu Dhabi, there will also be innovation competitions of the Ministry of Tourism and Trade Marketing.
Following a pre-selection process in Paris, London, Milan and Moscow to find the most innovative technology companies, Chalhoub Group's startups will compete for The Greenhouse Retail Tech for the title of Best Creative Business Startup.
The Abu Dhabi government is highlighting the Emirate's hottest innovation prospects, including Hub71, the Abu Dhabi World Market (ADGM), Start AD, Krypto Labs and the Abu Dhabi Ministry of Health map as the innovation hub of the future.
What to expect

Etisalat showcases the Robo vehicle Renault EZ-Ultimo, the all-wheel Lazareth Flying Motorcycle, the wheelchair accessible WheeM-i (Wheelchairs Mobility Interface), the Lift Aircraft Hexa Passenger Drone and the fully automatic bread maker BreadBot, a staff-free retail store Moby Mart, a Self Checkout IoT Retail Solution Vicki, Social Robot Furhat, ANYmal Quadrupedal Robot, TeleRetail Outdoor Delivery Robot, humanoid robot Selma and Owen.
Huawei will be showcasing its Atlas 9100, the world's fastest AI training cluster based on the Ascend 910 chipset, and its AI-controlled enterprise autonomous network and AI-enabled distributed memory architecture.
Ericsson showcases 30 new 5G use cases, including interactive sports experiences with high-quality in-car videos, virtual reality and augmented reality. Connected cities, remote-controlled vehicles, more efficient and automated manufacturing, comprehensive sports and connected health care, as well as transformed TV and gaming experiences.
Visitors can experience the Virgin Hyperloop One Pod.
Siemens presents MindSphere, a platform for an open and cloud-based IoT operating system for the fourth industrial revolution.
Oracle will demonstrate its autonomous cloud operating system, its embedded AI and machine learning applications, its enterprise digital assistant and its standalone database computer.
Microsoft will be showcasing a variety of industry-first demonstrations of AI, IoT and cybersecurity, as well as exploring the modern workplace through interactive experience zones. At the Gitex booth, there will also be a zone with over 32 regional and international partners and ISVs.
Veritas will demonstrate the competencies acquired through APTARE, which provides artificial intelligence-based analytics solutions for local and hybrid cloud environments.
The global AI expert Dr. Ben Goertzel, Chairman and Chief Scientist of Singularity Studio and CEO and founder of the SingularityNET Foundation, will explain how AI is going to merge with Blockchain to create a deep value for companies and society, increase people's life expectancy and medical research to support.
Insta 360, a 360-degree camera specialist, launches its portable GO camera, which features automatic intelligent editing and digital video stabilization capabilities.
Software AG presents Smart City solutions guided by the Internet of Things and AI. Visitors can ask "Alexa" and it will show how it works.
Jacky & # 39; s will join SoftBank Robotics to introduce Pepper's more comprehensive applications in customer and visitor management. Jacky's will also introduce his new Robot Content Management Systems (RCMS) to Pepper.
UAE's TRA will launch 10 innovative projects to enhance the UAE's smart lifestyle, support the transition to the future of AI and Smart City, and develop a mechanism for dealing with modern technologies for humanity through advanced solutions be provided for the daily needs.
Cisco will showcase industry-leading solutions that use AI, machine learning, sensory IoT information, and video analytics to connect businesses with communities.
Kingston Technology will showcase its Supermicro server along with all the portfolio's memory modules, including 2933MHz modules, DC SSD products and NVMe SSDs in servers, as well as live demos of the encrypted USBs.
Korean startup Little will present its "infant's smart bottle", which warms and cleans the milk / equation and gives tip and air warnings via a smartphone app.
The South Korean start-up company EXoPERT will present a technology that isolates high-purity exosomes from the blood without damage and uses Raman scattering to analyze isolated exosomes. Raman scattering can determine the structure of the molecule by altering the scattered light due to the vibration and rotation of the molecule to analyze the cancer information present in exosomes.
Chinese manufacturer Chuwi is bringing its 8-inch MiniBook and its thin and portable 2-in-1 UBook Pro (12.3-inch) tablet.
Epson will be showing the EB-L1755U laser installation projectors with ELPLX02 ultra-short throw lenses used to display VR content, with the exception of the SCARAT3-401S robots, the Moverio BT-35E smart goggles, and the EH -LS500w home theater projector.
For the first time, Belkin, Linksys and Phyn will be sharing networked things, connected homes and smart utilities.
This post contains affiliate links, to find out more information, please read our
disclaimer
.
The price written on this page is true as the time it is written. It may change at any moment.